An interview with Emlah Tubuo, PharmD. Owner of Powell Pharmacy located in Powell, Ohio
What inspired you to become an independent pharmacy owner?
Emlah Tubuo: I always wanted to do more than I was able to do as a pharmacist in a chain organization. People want health. When they come to the pharmacy, they're looking for more than a prescription. I believe that as pharmacists we're in a good place with our clinical skills to be able to help people. That's what I wanted to achieve with Powell Pharmacy, to look at health as a whole.
What steps did you take in your career to prepare for business ownership?
ET: For the past three years that I've owned Powell Pharmacy, I've learned more than I learned in the past 30 years of my life put together. I was lucky to find out about McKesson RxOwnership, and I worked with an agent who really helped provide the business basics that are usually barriers to getting into pharmacy ownership.
The basics of entrepreneurship and the foundations of business ownership are not really explored in pharmacy school, so I had to do that on my own. I had to go out and read. I had to go out and find resources on my own, and a lot of these resources were found in mentors.
What is your experience with mentors, influential leaders or others who inspired you to reach for success?
ET: That has been my driving force, mentors and associating with people who are inspired, motivated, open minded, grateful and passionate. Jim Rohn says you are the average of the five people you surround yourself with. I think that really holds true, because I put myself in a space where I was honored to be able to meet great pharmacy mentors and influential leaders.
One example is Tim Ulbrich of Your Financial Pharmacist. He helps pharmacists understand all the basics of finances, which is something we don't focus a lot on in pharmacy school. And I look at other people who have been innovative in pharmacy. It's important to associate with successful pharmacy owners.
Before opening my pharmacy, I interviewed 10 pharmacy owners around the Columbus suburbs. That helped me pick out people who are passionate, innovative, willing to learn and willing to guide me.
It's important on this journey to go as far as you can with the people who have already had the experience of ownership.
What was one huge insight or learning you discovered during that process
ET: I was trying to convince myself that this is the time to do it versus postponing it one or two more years. I asked them, "Are you happy where you are? Do you feel fulfilled? Would you do this over again?" And there was a resounding yes. This doesn't mean there were no troubles, there were no trials, there were no difficulties. But they all said this was one of the most fulfilling decisions that they had made in their pharmacy career, and they would do it all over again.
Have you noticed any boundaries or challenges for women in pharmacy, and if so, how do you get around those?
ET: The number one barrier is access to capital, and that is one place where my agents in RxOwnership at McKesson really helped me. I worked together with them and First Financial Bank to get the capital I needed to start my pharmacy. Without that, Powell Pharmacy wouldn't have been possible.
The second challenge is work-life balance. I'm a mom of three, and that challenge is always there. I read that when you switch to entrepreneurship, it means you're tired of working 9 to 5; you want to work 24/7. I said, "Am I sure I want to work 24/7? Will I have time for my three kids? Will I have time for my husband? Would I have time to be a mom? Would I have time to be Emlah? I overcame that by realizing that this is about a journey, not a destination. If I can integrate my life as a mom with my life as an owner and as a great pharmacist, every one of those aspects of my life will fit with each other—I will be a great mom because I'm a great pharmacist, and I will be a great pharmacist because I'm a great mom, and vice versa to ownership.
Another barrier is the lack of business acumen or the lack of confidence as a woman in the space of entrepreneurship and ownership. One of the things I used to overcome that was to get involved in the community and get resources from the Powell Chamber of Commerce.
What's one thing you did this year that made the biggest impact in your pharmacy?
ET: Powell Pharmacy positioned ourselves as the expert in preventive medicine in our community. Prior to the COVID vaccine, I took the time to speak with the mayor's office, the Chamber of Commerce and the community, just making sure they know we are here to help the community of Powell become better. I made videos and put them on our Facebook page, shared them on the Powell Bubble, the Powell Community, and the local mom pages on Facebook. I reached out to people to reassure them what they can do to keep their children safe.
When the vaccine came out, some people were initially very hesitant about the mRNA vaccine. This was my chance as pharmacist and a mom to use my insight and knowledge to serve my community. I told my pharmacists and interns that 50% of our service is to immunize; the other 50% is to educate. We made videos explaining how mRNA vaccines work, why it is important and why it's not going to kill you.
How do you stay connected with the community?
ET: I don't spare any platform when it comes to the business of pharmacy. Every interaction is a marketing opportunity; it's an educational opportunity. Our moms are on Facebook. Our moms are on Instagram. Powell Pharmacy has a strong presence on these social media platforms. We are on the Women in Business networking group in the Powell Chamber. That also earned us the Business of the Year Award from the Powell Chamber of Commerce, another highlight of our year. We are making sure that as an independent pharmacy we are there to serve the community. So, we go to all of these events and make sure that we have a table there, even if it's just providing flyers or basic information about what you can do for gut health, immunization or more. We want to make sure that we are a staple in the community to help people achieve better health.
What do you enjoy most about being an independent pharmacy owner?
ET: I am a mom of three children, and I make my life very intentional. When I'm at the checkout and there's a line, I ignore the line. I take complete care of the person who's in front of me, who gets 100% of my focus. I focus on you. When I finish with you, then I go to the next person, because I will also give them that 100% focus. That's what has helped me: when I'm in the pharmacy, I'm 100% present and when I'm at home I'm 100% present. That's what I do when I am at home, on play dates, at a Zumba class or in an immunization clinic. I choose to be 100% present and bring my kindness and my gratitude there.
My goal is to teach my children and anybody who crosses paths with me that you want to dispense wellness, you want to fill yourself up with kindness. We all struggle. Our mantra at the pharmacy is "Choose kindness always." We have T-shirts with our mantra and we're selling them everywhere. We all struggle, so choose kindness always. When we fill ourselves with kindness, it will overflow to the people around us.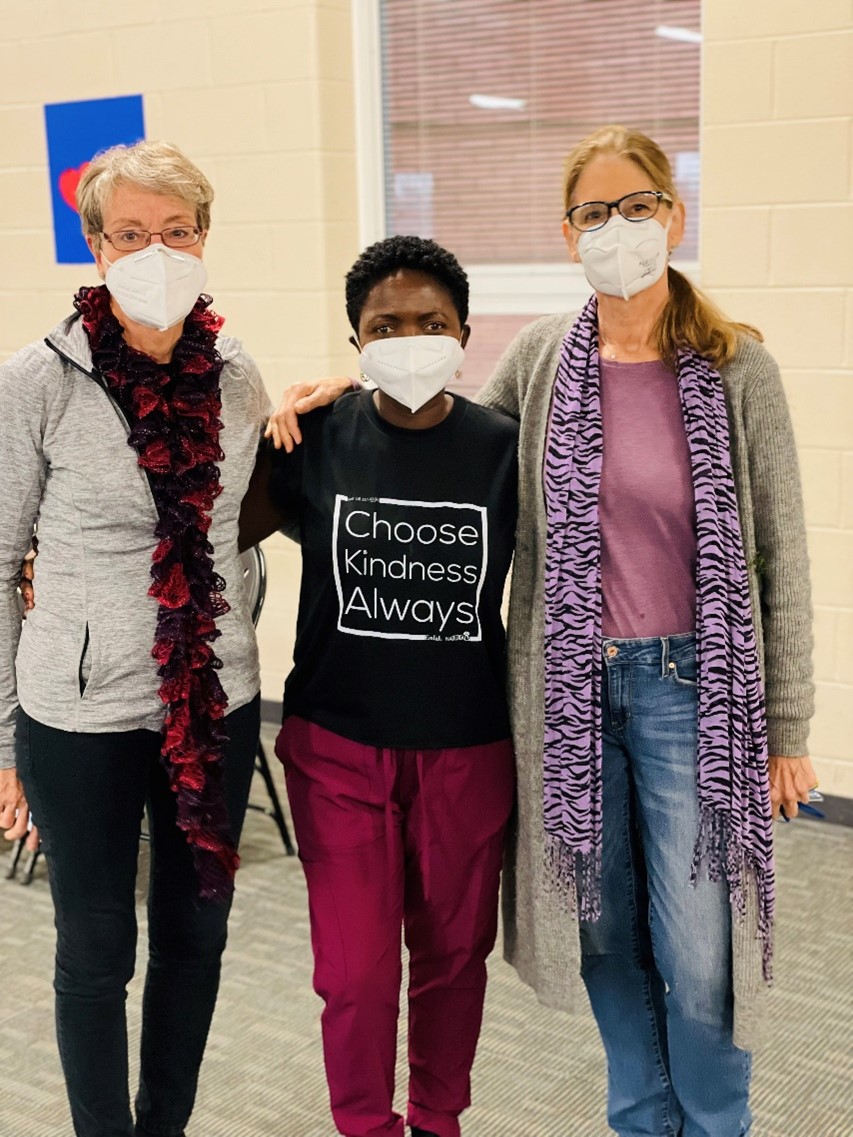 What advice would you give women entrepreneurs entering the pharmacy ownership world?
ET: One thing is to stop complaining. If there is a problem, we have the tools to find the solution. Those tools could be at RxOwnership and McKesson. Those tools could be going to an NCPA (National Community Pharmacists Association) conference. Those tools could be going to McKesson ideaShare. Those tools could be going to the Ohio Pharmacists Association (OPA). Those tools could be going back to the college of pharmacy to do a presentation. Those could be just sitting in a continuing education session and reading books.
Do not complain. Act.
Somebody has already done it. There is a woman who is already doing that. Even if a man is already doing it, step up and do it. Surround yourself with the people who are passionate and inspired and innovative in the pharmacy space, and you can find those people. I never miss an OPA conference. That's where I met all the other women who own pharmacies. Sitting with them over lunch, I learn one or two things from them, one or two clinical services they are performing at their pharmacy, which I can implement at my pharmacy.
Can you share a little bit about your personal life, your family and what you do for fun?
ET: I love hanging out with my children, just being a true mom, on the floor with my 7-year-old, playing board games at home, cooking ethnic dishes. I originally come from Cameroon, West Africa, and the food is totally different from the food we have in the U.S. I walk and run with my husband. I love going to dance at Zumba, and that's where I relieve my stress and have fun with other moms in Powell.